DESCRIPTION
The Industrial Maintenance Program offers a sequence of courses designed to prepare individuals for employment in various manufacturing environments. While individuals are encouraged to complete the entire sequence of courses in the order listed, beginning with safety, and earn an Industrial Maintenance Certificate, each course may be taken as an individual stand-alone course. After completion of the career track, students will receive certification in the following areas: OSHA 10, CPR/First Aid, forklift, bridge crane, DC electricity, AC electricity, hydraulics & pneumatics, industrial motor control, programmable control (PLC) and will finish with the Industrial Maintenance Certificate. According to the U.S. Bureau of Labor, the starting salary for individuals with this certification is $22 an hour.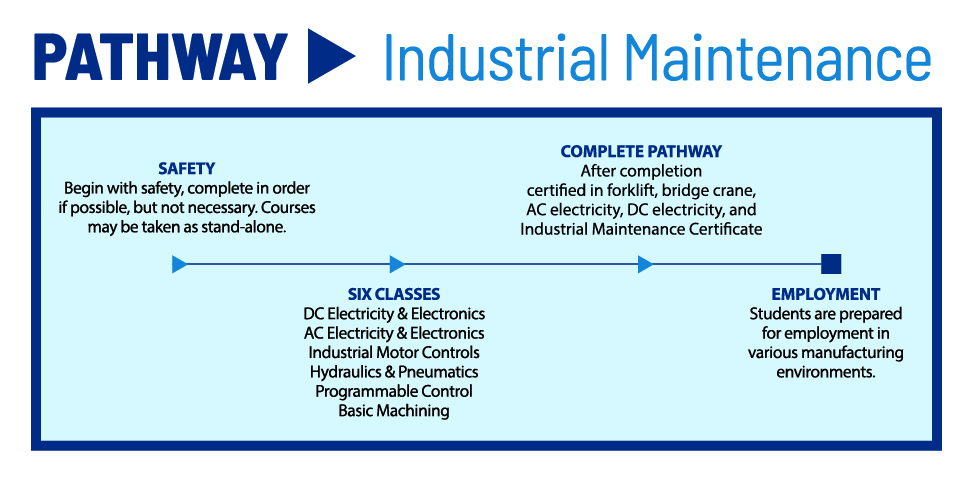 ADDITIONAL INFORMATION
Anyone age 16 or older may enroll in a short-term class on a first-come, first-served basis. Certain restrictions may apply. Costs shown are tuition only. Book/supply costs and special testing fees are not included in the tuition cost. Enrollment is taken by the Adult Education/ACD staff Monday through Thursday from 8AM-9:30PM and Friday from 8AM-4PM.
ENROLL TODAY – 918-224-9300